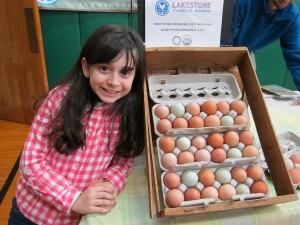 This Week at the Market
Abby from Lakestone Family Farm is justifiably proud of the beautiful eggs her family's hens are producing, including the pale blue Araucanas, which you'll find this week at the Brighton Farmers' Market. Fellenz Family Farm will have honey and certified organic garlic, potatoes (Keuka Gold, Carola, Salem and French Fingerling, in quarts and 5 lb. bags), and celeriac. Happy Hooves Organic Farm will have 100% grass-fed and finished beef cuts, pasture-raised pork cuts, a few whole frozen truly free-ranging chickens and eggs, all certified organic and fed No Soy; you can still order venison and pork sides from Della.
Fisher Hill Farm is bringing garlic, celeriac, rutabaga, carrots, parsnips, potatoes, onions, shallots, beets, grapes, Red Jacket juices, frozen turkey, frozen corn, and fresh chicken, both organic grain and conventional grain fed. Bolton Farms will have lettuce bouquets, spring mix, arugula, watercress, kale, micro greens, pea tendrils, cilantro, parsley, and spinach. Clearview Farm will have certified organic turnips, sweet onions, potatoes, burdock root, spaghetti squash, sweet potatoes, eschallions, pea shoots, dry beans, and free-range, organically-fed goose and chicken eggs. Shannon Brook Farm is featuring pasture-raised, organically fed pork chops and suggests trying one of these recipes. Brian's Kitchen will have samples of new and improved sugar-free cookies, sweetened with agave.
Singer Farm Naturals will have their Tart Cherry Juice Concentrate. Bloomfield Honey Farm will have flavored honeys, beeswax candles, soap, hand salve, lip balm, and cuticle cream. Nordic Farm is bringing brown eggs, peanut granola bars, jams, pickles, salsa, and applesauce from the farm's spray-free apples. Wohlschlegel's Naples Maple Farm will have an assortment of maple products. Tripleberry Farm is bringing blueberry double chocolate brownies and tripleberry blondies, pesticide-free berry jams, and several new scents of moisturizing goat milk soaps. Newbury Park Pastries will have chicken and veggie pot pies, quiche, and chocolate caramel & raspberry cheesecake tarts.
Also at the Market
Musicians Grant Cos and Babak Elahi will perform. ColorBrightonGreen.org will collect hard-to-recycle items. Representatives from Metro Justice will join us and offer information about their mission.
Brighton Winter Farmers' Market is held Sundays, 1 to 4 pm.  It is located in Brighton's Brookside Center, 220 Idlewood Road, Rochester. There is a second entrance to the building, easily accessible, from S. Winton, between Westfall and 590 (just south of Westfall).
The Brighton Farmers' Market is sponsored by the Town of Brighton.  For information on lots of great activities sponsored by the Town's Recreation Department, see http://www.townofbrighton.org/index.aspx?nid=220. To register online for programs, see https://secure.rec1.com/NY/Town-Brighton-Parks-Recreation/reg.php.  More information about the market can be found at www.brightonfarmersmarket.org or on the Market's Facebook page.
See you Sunday!